Get In Touch
Effective, Customized Treatment from Experienced Periodontists
Drs. Charles McBrayer, Jason Strever and our team at North River Periodontics & Implants welcome you to our office! Experienced periodontist Dr. McBrayer and his associate Dr. Strever are pleased to offer a wide range of periodontal services geared toward restoring health to your mouth. We are dedicated to helping bring back comfort and confidence in your smile using our expertise in periodontics and advanced dental technology. From a family-like atmosphere to customized treatment plans, we strive to make your experiences with us as safe and effective as possible. We are excited to meet you!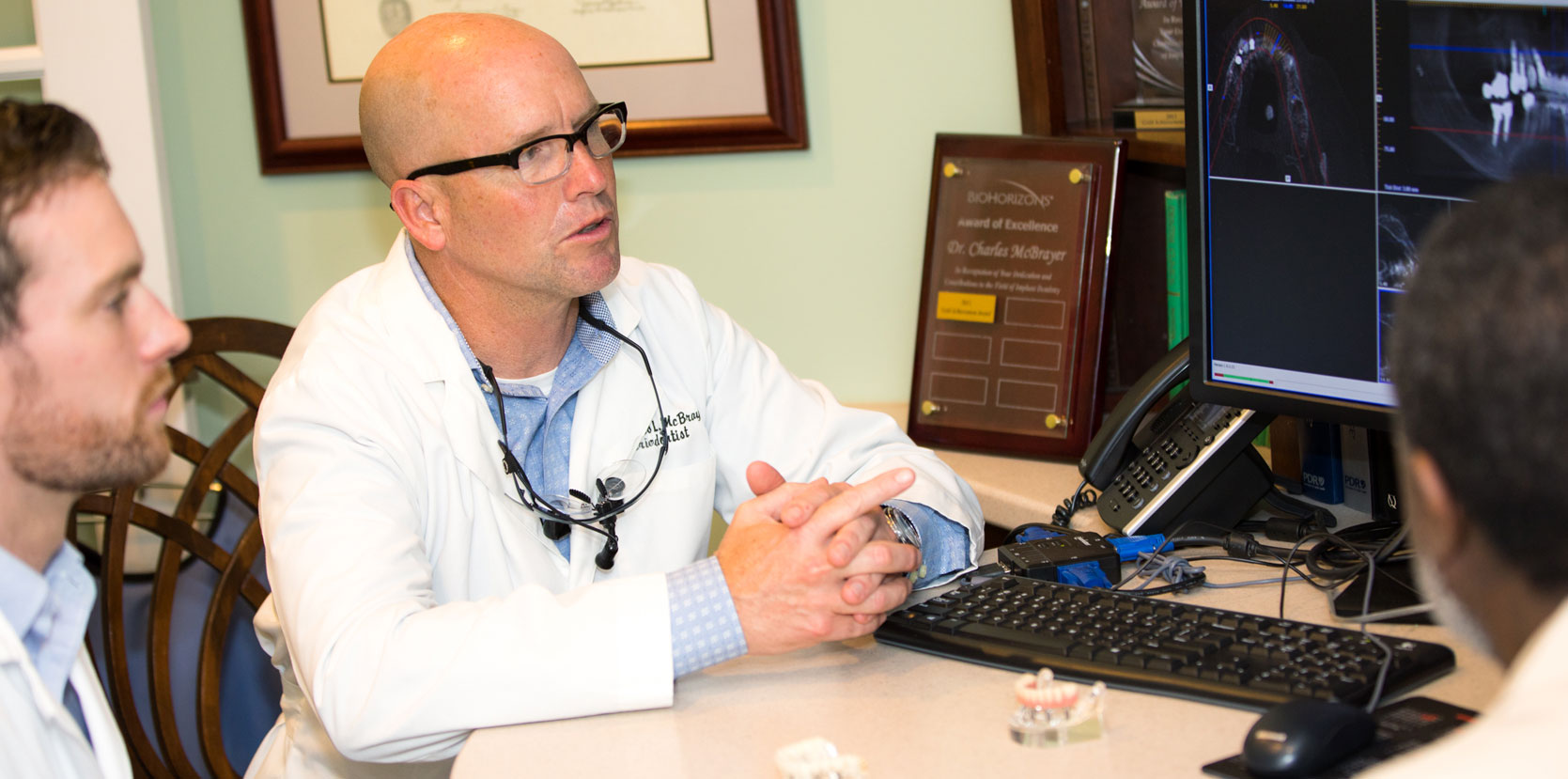 Periodontal services we provide:
Teeth-in-a-Day™ dental implants
+
Teeth-in-a-Day takes a life-like full arch prosthesis and attaches it to dental implants that are securely placed in your jaw bone. Durable dental implants fuse to and provide healthy stimulation for the existing jaw bone. A full arch prosthesis is attached to the dental implants to create a more stable and long-term alternative to traditional dentures. Teeth-in-a-Day can be placed in a single office visit, and restore over 85 percent of normal chewing power while providing aesthetic improvements.
Laser dentistry
+
LANAP® is a modern and minimally invasive alternative to traditional osseous surgery for gum disease. LANAP uses the power of laser light to remove bacteria and diseased gum tissue, eliminating the need for scalpels, incisions, and sutures. The laser is used to create blood clots that encourage rapid healing and healthy reattachment of the gums to the tooth roots. Laser dentistry options for gum disease also increase patient comfort during and after surgery.
Gum recession
+
Gum recession occurs when gums pull away from the teeth, exposing the sensitive tooth roots and giving the appearance of "elongated" teeth. Exposed tooth roots also increase the risk for tooth decay. Gum recession can be effectively treated with gum grafting, which takes soft tissue from the mouth or a donor and places it on the affected areas. Gum grafting restores a more balanced gum line and covers up sensitive tooth roots. Patients may need either pedicle grafting, free gingival grafting, or connective-tissue grafting.