Get In Touch
Delivering Customized Periodontal Care to Each Patient
Welcome to North River Periodontics & Implants! Periodontist Dr. Charles McBrayer, his associate Dr. Jason Strever, and our entire team are pleased to bring you comprehensive periodontal care in an atmosphere that is friendly, caring, and comfortable. We pride ourselves in being well-educated and experienced with dental procedures and technology that can be provided to each of our unique patients. In our care, you will receive treatment that is customized to your needs, gentle, and effective as we combine our advanced training and modern dental technology. We are glad you are here, and we look forward to meeting you!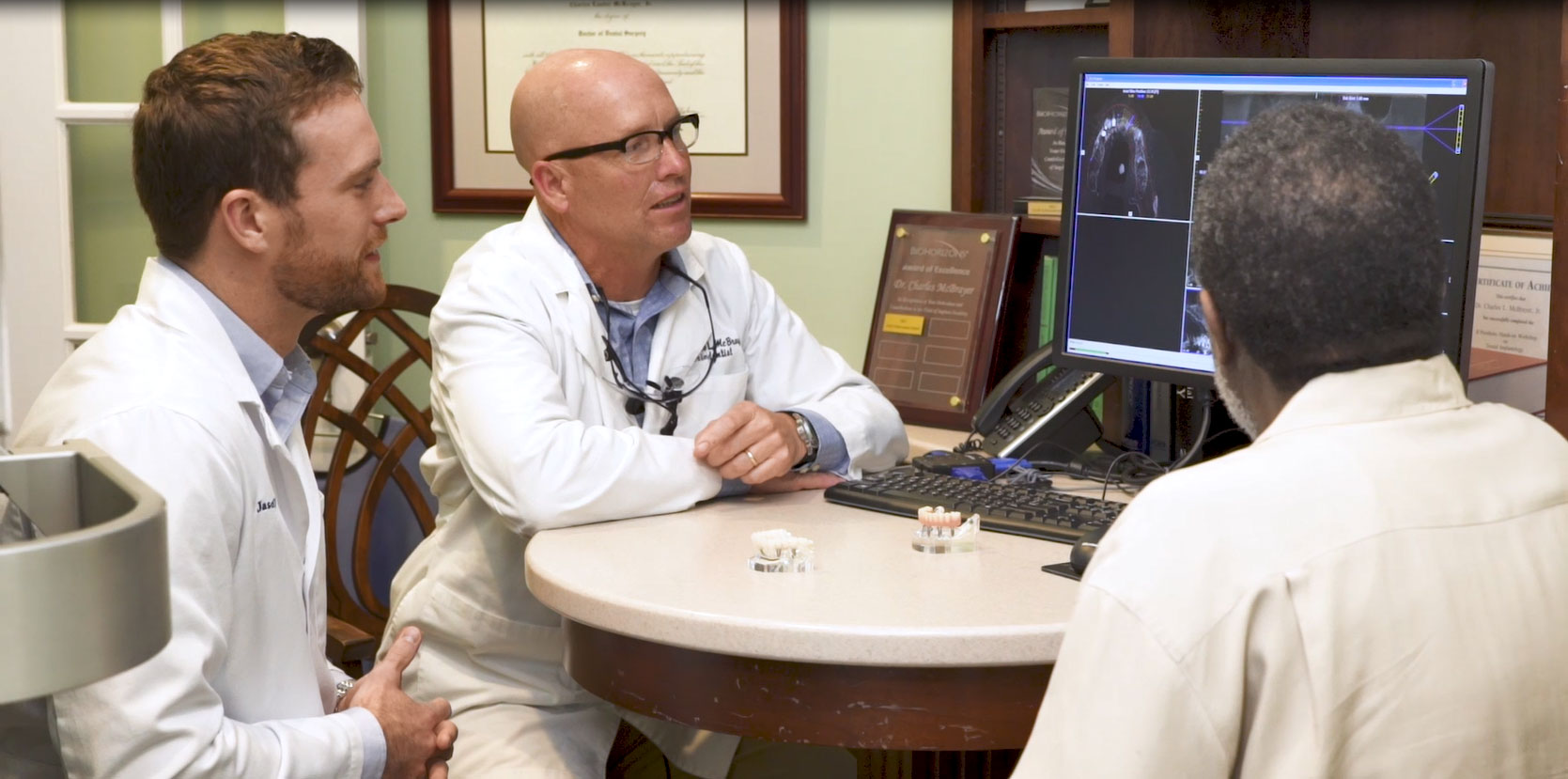 Periodontal services we provide:
Dental implants
+
Dental implants provide patients with an attractive and functional replacement to their single or multiple missing teeth. Made from biocompatible titanium, the dental implant post is surgically placed in the jaw bone to replicate a tooth root. Dental implants are restored with a strong, life-like dental crown that fits securely between adjacent teeth. Dental implants can either replace a single missing tooth or be used to support a prosthesis to replace a row or full arch of missing teeth. Even patients with minimal bone structure can benefit from dental implants after a bone grafting procedure is performed.
Laser dentistry
+
Laser dentistry can be incorporated into many periodontal procedures, including gum disease treatment. A minimally invasive alternative to traditional osseous surgery, LANAP® laser gum disease treatment can effectively eliminate bacteria that destroy the gum tissue and bone structure surrounding tooth roots. The laser is also used to encourage the reattachment of gums back to the teeth and promote a faster and more comfortable recovery through the creation of healthy blood clots. Laser dentistry options can help provide better patient experiences by being safer, more effective, and less painful than traditional methods.
Gum recession
+
Gum recession is a condition where the gum tissue pulls away from the teeth, exposing the tooth roots, and causing increased sensitivity and risk for tooth decay. The most effective and common treatment method for correcting gum recession is gum grafting. Both a functional and cosmetic procedure, gum grafting takes soft tissue from the roof of the mouth or a donor source and places it along the gum line to reshape and add proper protective structure back to the gum line. Gum grafting procedures can be any one of pedicle grafting, free gingival grafting, or connective-tissue grafting depending on patient needs.